At Apt, as architects and designers, we have been working within the care sector for a number of years – and welcome this renewed debate around how to design better for every stage of life. The sector itself has several categories within the broader heading of care; Independent Living (also called Extra Care), Assisted Living and Memory Care, more commonly referenced as a Care Home, which all address a specific focus.

How can we improve the design?

Our approach to designing for 'senior living' is really no different to that of any residential accommodation – we are designing homes, with the user at the centre of this creative discussion.

It is important for us to remember that these are environments where people live, where they meet their friends, welcome visits from their family and where they spend their later years surrounded by professional care and assistance, but also where people primarily want to be part of a community. The future of care is not as an institutionalised medical environment, but an environment based around a home model with facilities and support to assist those who are in need of this assistance.
Although the specific briefing resulting from the age of the residents and their care requirements is an essential consideration in the design, another important focus is finding creative ways to integrate the 'essential' equipment and technology with empathy so that the spaces feel more considered, respecting the dignity of the residents and for them to be less categorised as care home residents.

What parameters are there to play with?

The quality of the spaces is paramount - with a greater synergy towards material choices, colour palettes, lighting levels and the relationship of these to the wider function of rooms and spaces. Soft contrasts and natural materials are preferred throughout apartments, warm and light tones combined with natural light will provide the feeling of 'being at home'. For common areas and amenity spaces, muted, toned-down colours, and darker materials for a more relaxed and tranquil atmosphere are considered alongside spatial design decisions such as the subdivision of larger 'one function' spaces like a lounge, into smaller, more intimate, and cosy sub-spaces.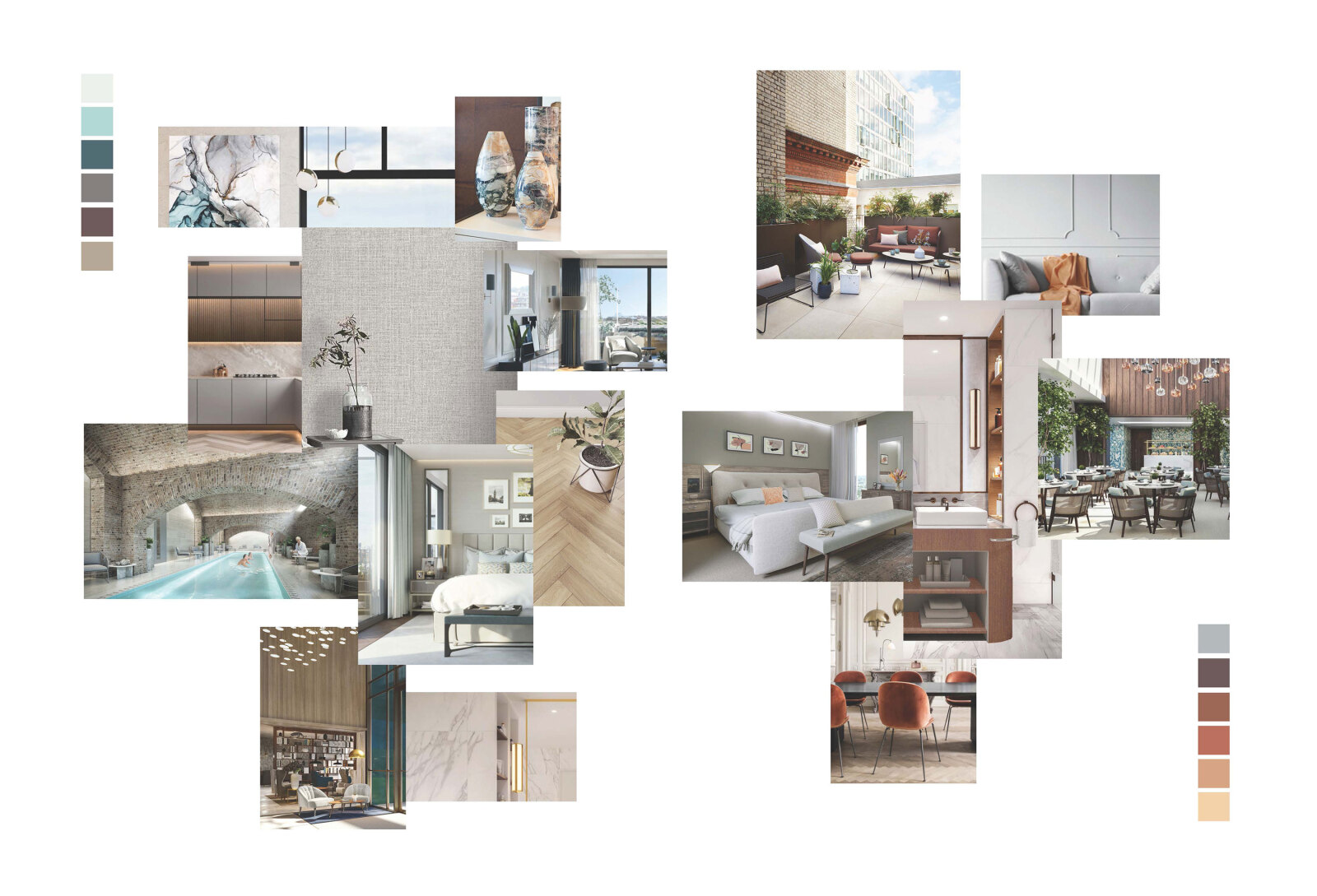 How can these design decisions influence the residents?
'Daily exposure to distinct periods of bright light during the daytime and true darkness at night are essential to synchronise our internal circadian system to the solar day, so that we are able function optimally … When these environmental cues are absent, weakened or experienced at the wrong time of day, our circadian system becomes disrupted. This disruption is associated with a wide range of adverse health outcomes including sleep disorders. The visual system of older people diminishes due to inevitable changes in the physiology of the eye and … without appropriate lighting, problems with the timing, duration, and quality of sleep can develop, which in turn may impact behaviour and health.'
(Karen van Creveld, MSc., FSLL)
Colour and lighting greatly influence our mood and appreciation of the space around us. Integrating this correctly where everything has a considered place, is key to design success. In an apartment or even in an amenity space, a focus towards maximising natural light significantly improves the daily experience especially when directly connected to accessible outdoor spaces.
The sociability and connective characteristics of outdoor spaces are fundamental to providing a sense of freedom and community for residents within a senior living setting. Through our designs, we look to create a variety of external spaces, of differing scales, types and uses, associating a theme to each, such as relaxation, recreation, or activity. The presence of water features and living walls, comfortable seating, the smells, and colours from the planting contribute significantly to the wellbeing of the community who are encouraged to use outdoor spaces to socialise and connect as would happen in a private garden.
The advancement of technology is another aspect that can enormously assist and improve the comfort and security of the residents and should be integrated into the design at early stage. Touchless controls, intensive air purification and water filtration and more interconnected sensors within apartments and rooms all benefit the residents greatly.
In the pursuit of designing 'better homes' for our aged and ageing population, we strive to provide better buildings through thoughtful design and collaborations with a wide range of specialist disciplines. This creates a unified and holistic approach which encourages care providers to deliver a new generation of exemplar 'care home' settings for residents to complete their exciting journeys through life.
Stephane Piazza - Project Leader.
https://thecareruk.com/the-impact-of-care-settings-on-resident-mood-and-wellbeing/